Wednesday, June 21, 2006/10:51 AM
Ah...
the Emotional Rollercoaster
that is ME
Much happier today and I apologize for my midnight ramble of last Wednesday (beware it may return as I hear we are to go BACK to Horrigans tonight... *sigh* well I'm nothing if not a fighter, so I'll try to force myself to not get irritated if I get that 3rd wheel feeling again. Not that i don't have fun with my buds, i do... it's just the bar atmosphere gives me more of a loser feeling sometimes. Eh, perhaps tonight shall be better. Start off positive and see how it goes :) ).
Anyway, I'm procrastinating this morning again lol. I have a script 95% done but rather than finesse it, I'm on here posting lol... ah well I promise as soon as I get done with this entry I'm going back to work on it.
So I've decided that I'm officially nutty for Halloween.
I've already picked out my big costume for the holiday (big meaning that if I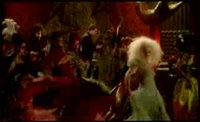 get invited to more than one party like this year, I'll have to quickly come up with a backup costume, but this one is for the actual night)... it's from the moulin rouge inspired music video
"Mr. Brightside"
by The Killers.
I ADORE this video. I think it's taken the place of Ah ha's
"Take on Me"
as my favorite video of all time. Which is strange since I only slightly like
Moulin Rouge
. I adore Ewan with his sexy black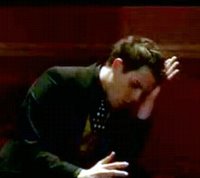 hair and that boy can hold a tune! (who knew jedi's can
sing
??). But frankly the downer ending kinda peeves me off and I hate Elton John for the most part (Rocketman, Goodbye yellow brick road excluded) so that whole this is your song makes me wanna vomit. But the color, the story, the film is AWESOME and luckily the Killers captured what I love about the film, without the hideous COME WHAT MAY overture. (may I also say any music video that digs up Eric Roberts to star in it ROFL... Gold. btw that's the lead singer of the Killers to the left, NOT Ewan... or Eric Roberts for that matter.)
So which person do I want to be for Halloween... This gal: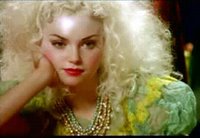 She's so cool looking. Kind of a mix of early 18th century Mozart looking with the late 19th century moulin rouge dance hall girl thing going on there. Well, anywho, I think I can easily find an ugly prom dress or bride's maid outfit at Sal-Vo (salvation army thrift store for those of you who are unfamiliar with the Sal-Vo term) and the wig is super easy, I'll have to wait until September, (but who cares not like I need it before then) Spencers is sure to have it. I know I've seen it there before. I already have a ton of white face make-up...um I'm the Halloween Queen, I have EVERYTHING: vampire teeth, spock ears, make up, fake blood... use to have stuff to do scars but that got really scary looking so I tossed it.
So anyway, that made my day the other night when I decided to do this for Halloween. Lol... funny what cheers me up now and then. I am indeed a strange duck, but eh, I embrace my odd duckness.
ARGH... now I wanna go rent Moulin Rouge... *sigh*... where's my Hollywood video card??? Don't suppose they'll rent it to me free... wonder if hitting on the video guy will help. ;)